Restaurant Pos Software
Restaurant Maid version 2.354
RESTAURANT MAID is a Restaurant Software, highly recommended for general type Restaurant and/or a Bar, Sandwich Shop, Pizzeria, Steak House, Café Shop, Deli, Buffet, Catering business, Doughnut or Pastry Shop, Hotel restaurant/kitchen and more.
Our Restaurant Software, as a bonus (free of charge), integrates with Cayan, X-CHARGE and ChargeItPro – in order to meet all of your Point of Sale Credit Card processing needs.
365 days a year Support, Life-Time License, free Updates, Video Tutorials, Vast Knowledge-base.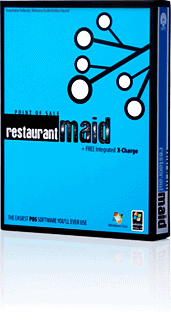 Restaurant Software For Restaurant Management
Restaurant Maid is priced just right and much more affordable than the rest of the restaurant management software out there, in the restaurant software world. If you are on the lookout for restaurant pos software, look no more, because Restaurant Maid has many extra features that help you manage your restaurant and make it better than the competition. Just to name a few of those extra features that are not as common in restaurant business software today, as they should be: Accounting, Time-Clock, Payroll and other important components. These components are included in our restaurant pos system as standard, at no extra charge, unlike the common practice of the restaurant point of sale software market, which is to sell those components separately from the POS Software in order to maximize revenue.
So if you are looking for pos for restaurants, Restaurant Maid can meet your POS Software needs and more. For your inventory management purposes, our restaurants pos offers low stock alerts only for the items that you set and for the quantity that you specify, to make your restaurant pos systems more efficient than average. When discussing inventory, another surprising feature that is uncommon for restaurant pos systems and a feature that we offer in our restaurant inventory software is quantity control that is processed in decimals, when needed. This feature enables our restaurant software to process measurements in sales by weight and length. Our POS Software for restaurants, Restaurant Maid, also manages inventory in multiple locations, allowing flexible taxes setup for every item. So if we are talking restaurants pos with greater than average inventory management, Restaurant Maid has you covered.
You would probably also be surprised to learn that our restaurant software offers a variety of tax options that make our restaurant pos software to be truly global and compatible with all tax systems in the world, which is a shortcoming of other restaurant business software. What is also very rare about our Restaurant Maid as unique restaurant software is the capability to support all of today's world currencies, which our POS Software offers. Ready to be even more amazed by our restaurant pos software, well if your country's currency is not ready available in our restaurant software, you can easily add it by utilizing our "add currency tool". Speaking of truly international and globally compatible restaurant pos systems, did you know that our restaurant software accommodates both USA and international date, address and telephone formats?
It is not very common to see a restaurant accounting software today that will accommodate customer accounts or customer tabs, but as you may have guessed; our restaurant management software has this feature. And if you need to process returns with your restaurant pos system, our restaurant software has you covered, with a comprehensive returns feature. If for any reason you have the need to print your own labels, even labels with barcodes and generate your own barcodes with a POS Software, our restaurant pos software will not disappoint, because it does offer a great barcode label feature that is praised by many businesses as a life saver.
Do not even worry about being a boss and managing your employees, they will be taken care of with our restaurant management software that champions options like employee management and tracking, employee commission and hourly pay and a time clock, all from within the POS Software. Tightly connected to these employee management features, is our comprehensive payroll option, which calculates the employee salaries and prints out their paystubs, which feature makes other restaurant software makers envious of our restaurant pos software. The paystubs show the worked hours and/or earned commission, deductions, if any, so your employees can understand their check amounts better and easier and therefore this feature is considered one of the most important features for any true and complete restaurant management software.