Salon Software
Salon Maid version 2.354
SALON MAID is a Salon Software, highly recommended for all general salons, such as: Hair Salon, Nail Salon, Spa, Tanning Salon, Massage Therapy Spa, Manicure, Pedicure, Makeup Studio, Barber and more.
Our Salon Software, as a bonus (free of charge), integrates with Cayan, X-Charge and ChargeItPro – in order to meet all of your Point of Sale Credit Card processing needs.
365 days a year Support, Life-Time License, free Updates, Video Tutorials, Vast Knowledge-base.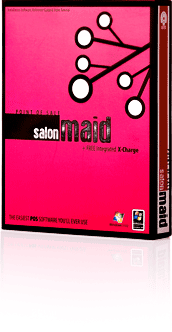 Salon Maid – Excellent Salon Point of Sale Software
Salon Maid is the perfectly priced and one of the most affordable salon software in the salon management software industry.
If you need salon pos software, no need to look further, you just stumbled upon salon business software that offers a lot of extra options, which will help you run your salon more efficiently than your competitors. Speaking of the extra features, that our POS Software offers, which are not very common in standard hair salon management software these days, we would just number a few of them: Accounting, Time-Clock, Payroll and other important options. The above numbered options come with our salon point of sale software included at no additional charge, unlike the usual habit of other salon software makers to sell these options separately in order to maximize profits.
If you are a salon business owner, looking for a salon pos system then give our beauty salon management software a try and we promise you will need to look no more.
And if managing your inventory, gives you headaches, Salon Maid, our salon software, offers unbelievable options as salon inventory software. One of those options that our salon software system offers is the feature for low stock alerts on the items that you designate and only for the quantity that you specify in our POS Software. While speaking of inventory challenges, another option that is not usually expected from salon software systems and our salon software has it standard, is quantity control that can process item quantity in decimals, when needed. Having the option to process quantity in decimals enables our salon software system to process measurements in sales by weight and length, if you need to sell any items by weight or length.
Our salon software can manage your inventory in different locations as well, if you have multiple business locations and it also offers flexible tax setup, which accommodates the entire world's tax systems, which are features you will not find in other salon management software. So if inventory management is important to you, Salon Maid, our salon software stomps out the competition in the salon pos software industry. Another surprising feature that our salon software has as a standard and is a hard-to-find option in the salon pos software industry is the support for all world currencies. In addition, what is even more surprising, if our salon management software does not have your particular currency, then you can simply add it yourself with our "add currency tool". If all of the above was not enough to qualify our salon software as a truly global solution, making it the salon pos software that can satisfy most businesses worldwide, we also want to point out that our software works with all U.S. and international date, address and telephone formats.
Our salon software also accommodates customer tabs or customer credit, which also is hard to find in today's beauty salon management software. Need to do returns with your POS Software, no problem; our salon software also has a comprehensive returns and refund feature. When and if you need to print your own labels, even barcode labels and generate your own barcodes, our salon management software can accommodate all that as well. Your employees are in good hands with our salon software which also offers options such as employee management and tracking, calculates employee commission and hourly pay and offers a time clock. In cooperation with the above mentioned employee management options, our salon software also has a comprehensive payroll feature. This feature enables our salon pos software to compute your employees salaries in a second and printout check stubs which show all deductions and computation of the paid hours and/or commission earned, all from within the POS Software.